The image below can be found easily on the net. It is apparently from an advertisement campaign for Miller beer from, I think, the end of the fifties. The slogan of the campaign, not just this particular ad, was apparently the champagne of bottle beer. Obviously, their beer is ridiculously expensive, fizzy, and made from grapes. The other lines aren't any better:
Ad: Distinctive in taste…
That's probably also true of potatoes marinated in banana juice.
Ad: Accepted and appreciated by those who demand and expect the very best.
That's the most clunky thing I have read in a long, long time. Also, those people probably 'accept and appreciate' pigs, but they sure as hell aren't going to drink them.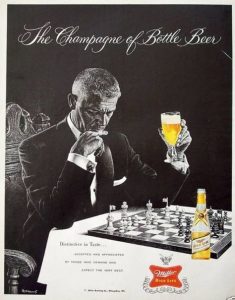 Read more