Schaakstudiekring tournament, Antwerp
20-01-1933 > 23-01-1933
| | | | | | | | | | |
| --- | --- | --- | --- | --- | --- | --- | --- | --- | --- |
| | Reserves | | 1 | 2 | 3 | 4 | 5 | 6 | Tot |
| 1 | Zomerplaag | BEL | – | 1 | 1 | ½ | 1 | 1 | 4½ |
| 2 | Van Weert | BEL | 0 | – | 1 | 0 | 1 | 1 | 3 |
| 3 | Govers | BEL | 0 | 0 | – | 1 | 1 | 1 | 3 |
| 4 | Lodewijckx | BEL | ½ | 1 | 0 | – | 1 | 0 | 2½ |
| 5 | Roeske | BEL | 0 | 0 | 0 | 0 | – | 1 | 1 |
| 6 | Laforce | BEL | 0 | 0 | 0 | 1 | 0 | – | 1 |
After the traditional Christmas congress in Hastings, some strong players passed through Antwerp on their way home. The local club Schaakstudiekring took this opportunity to organize a small international tournament. The first (and perhaps the last) round was played in the rooms of the chess club in Wolstraat 5 and started at 20:00. Rounds 2-4 were played in the Boelaer Park Hotel in Gitschotelei. The second round was played between 15:00 and 19:00 on Saturday, the third one from 10:00 to 14:00 and the fourth one from 16:00 to 20:00, both on Sunday. The last round was played on Monday, from 20:00 to 24:00.
Sapira was supposed to participate but he caught the flu in Hastings. Noordijk had to forfeit two of his games for "professional reasons", whatever that means. Koltanowski had to win in the last round against Steiner to clinch victory, but after a hard fought game it became a draw, allowing Steiner to take first prize.
Most of the information I have comes from [1], [2] gives a small article as well which contains some games. As Mr. Jan Kersten pointed out, [3] has one more game, for which it cites The Chess Review, November-December 1933 as its source. The picture below comes from [4]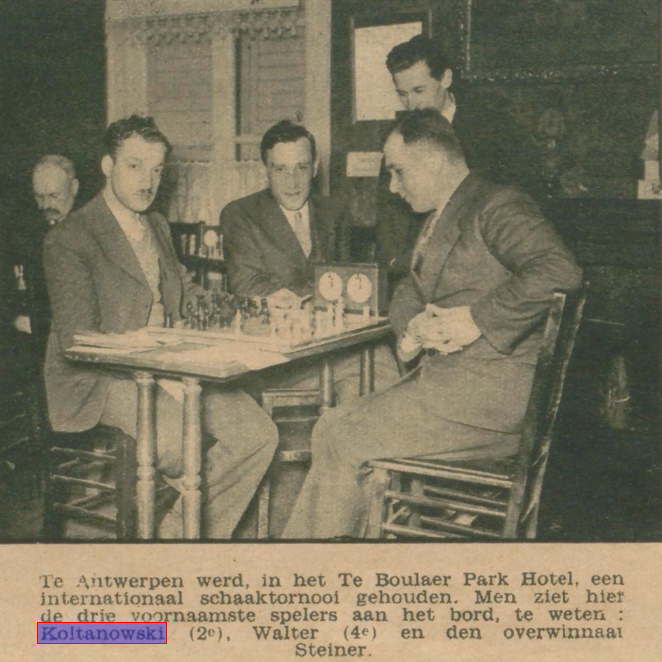 Wanted
Most games – especially from the minor tournament.
First names for Noordijk and all players in the minor tournament.
I'm not sure about nationalities – especially for the minor tournament.
Sources
De Schelde 20/01-03/02/1933

Ed. G. Koltanowski, The Chess World Vol.I, Moravian Chess ISBN 80-7189-419-2

Ján Mudroň

, Max Walter a Jakob Walter, 2020
Wereldrevue 02/02/1933