Olympic tournament, Paris
12-07-1924 > 20-07-1924
| | | | | | | | | | | | | | |
| --- | --- | --- | --- | --- | --- | --- | --- | --- | --- | --- | --- | --- | --- |
| | Consolation cup | | QP | 1 | 2 | 3 | 4 | 5 | 6 | 7 | 8 | CP | Tot |
| 1 | Hromádka, Karel | CZE | 3 | +21 | +14 | +17 | +3 | ½5 | ½6 | +9 | ½7 | 6½ | 9½ |
| 2 | Schulz, Jan | CZE | 4 | ½6 | +5 | +7 | +10 | +9 | -3 | -7 | ½12 | 5 | 9 |
| 3 | Voellmy, Erwin | SUI | 3½ | ½8 | ½16 | +33 | -1 | ½10 | +2 | ½5 | +13 | 5 | 8½ |
| 4 | Renaud, Georges | FRA | 3 | +17 | ½8 | -10 | +7 | +25 | -9 | +33 | ½6 | 5 | 8 |
| 5 | Grau, Roberto | ARG | 3½ | +15 | -2 | -6 | +29 | ½1 | +10 | ½3 | ½9 | 4½ | 8 |
| 6 | Koltanowski, George | BEL | 3½ | ½2 | +10 | +5 | -8 | +33 | ½1 | -13 | ½4 | 4½ | 8 |
| 7 | Bētiņš, Kārlis | LAT | 2 | ½22 | +30 | +31 | -4 | +29 | +8 | +2 | ½1 | 6 | 8 |
| 8 | Reca, Damián | ARG | 3½ | ½3 | ½4 | -2 | +6 | +15 | -7 | +31 | -14 | 4 | 7½ |
| 9 | Steiner, Endre | HUN | 2 | +24 | +18 | +16 | +12 | -2 | +4 | -1 | ½5 | 5½ | 7½ |
| 10 | Sterk, Károly | HUN | 3 | +31 | -6 | +4 | -2 | ½3 | -5 | +15 | +29 | 4½ | 7½ |
| 11 | Cenni, Giovanni | ITA | 1½ | +39 | +21 | ½23 | +22 | +35 | -18 | ½19 | bye | 5 | 7½ |
| 12 | Zimmermann, Otto | SUI | 2½ | ½30 | +29 | +14 | -9 | +17 | -31 | +25 | ½2 | 5 | 7½ |
| 13 | Daniuszewski, Dawid | POL | 2½ | -14 | ½35 | +21 | ½31 | +22 | +19 | +6 | -3 | 5 | 7½ |
| 14 | Rosselli del Turco, Stefano | ITA | 3 | +13 | -1 | -12 | ½18 | ½30 | +22 | ½28 | +8 | 4½ | 7½ |
| 15 | Davidescu, G. | ROM | 3½ | -5 | -17 | +19 | +16 | -8 | +33 | -10 | ½31 | 3½ | 7 |
| 16 | Lazard, Frédéric | FRA | 3 | ½33 | ½3 | -9 | -15 | +39 | +25 | -29 | ½18 | 3½ | 6½ |
| 17 | Romih, Massimiliano | ITA | 3½ | -4 | +15 | -1 | -33 | -12 | +24 | ½23 | ½21 | 3 | 6½ |
| 18 | Johner, Hans | SUI | 2 | ½42 | -9 | +39 | ½14 | ½23 | +11 | ½20 | ½16 | 4½ | 6½ |
| 19 | Naegeli, Oskar | SUI | 2½ | -29 | +42 | -15 | +28 | +20 | -13 | ½11 | ½26 | 4 | 6½ |
| 20 | Vaněk, Karel | CZE | 1½ | ½25 | +24 | +22 | ½39 | -19 | ½29 | ½18 | +28 | 5 | 6½ |
| 21 | Marin y Llovet, Valentín | ESP | 2½ | -1 | -11 | -13 | +27 | ½24 | ½26 | +30 | ½1 | 3½ | 6 |
| 22 | Rey Ardid, Ramón | ESP | 2½ | ½7 | +34 | -20 | -11 | -13 | -14 | +43 | +27 | 3½ | 6 |
| 23 | Malmberg, Erik | FIN | 2 | ½35 | ½31 | ½11 | ½26 | ½18 | ½30 | ½17 | ½34 | 4 | 6 |
| 24 | Duchamp, Marcel | FRA | 2 | -9 | -20 | +44 | +38 | ½21 | -17 | +40 | ½35 | 4 | 6 |
| 25 | Handasyde, Harris Kirkland | SCO | 1½ | ½20 | +44 | +30 | +35 | -4 | -16 | -12 | +33 | 4½ | 6 |
| 26 | Oskam, Gerard Cornelis | NED | 2½ | +44 | -33 | -29 | ½23 | ½31 | ½21 | ½35 | ½19 | 3½ | 6 |
| 27 | Kleczyński, Jerzy | POL | 1½ | +34 | +37 | -35 | -21 | ½40 | +36 | +37 | -22 | 4½ | 6 |
| 28 | Piltz, Karol | POL | 1 | +41 | ½36 | +42 | -19 | +38 | +35 | ½14 | -20 | 5 | 6 |
| 29 | Kohn, Stanisław | POL | 2½ | +19 | -12 | +26 | -5 | -7 | ½20 | +16 | -10 | 3½ | 6 |
| 30 | Gudju, Ion | ROM | 2½ | ½12 | -7 | -25 | +43 | ½14 | ½23 | -21 | +41 | 3½ | 6 |
| 31 | Skalička, Karel | CZE | 3 | -10 | ½23 | -7 | ½13 | ½26 | +12 | -8 | ½15 | 3 | 6 |
| 32 | Miliani, Luigi | ITA | ½ | ½36 | ½39 | ½40 | +44 | +42 | -37 | ½38 | +43 | 5 | 5½ |
| 33 | O'Hanlon, John | IRL | 3 | ½16 | +26 | -3 | +17 | -6 | -15 | -4 | -25 | 2½ | 5½ |
| 34 | Loewenton, Leon | ROM | 1½ | -27 | -22 | -39 | ½42 | ½43 | +41 | +36 | ½23 | 3½ | 5 |
| 35 | Fernández Coria, Valentín | ARG | 2 | ½23 | ½13 | +27 | -25 | -11 | -28 | ½26 | ½24 | 3 | 5 |
| 36 | Lancel, Edmond | BEL | ½ | ½32 | ½28 | +41 | +40 | ½37 | -27 | -34 | +39 | 4½ | 5 |
| 37 | Gibaud, Amédée | FRA | 1½ | -40 | -27 | -43 | +41 | ½26 | +32 | -27 | +42 | 3½ | 5 |
| 38 | Smith, Stephen Francis | CAN | ½ | +43 | +41 | -18 | -24 | -28 | +39 | ½32 | +40 | 4½ | 5 |
| 39 | Rueb, Alexander | NED | 1½ | -11 | ½32 | +34 | ½20 | -16 | -38 | bye | -36 | 3 | 4½ |
| 40 | Wreford Brown, Charles | ENG | 0 | +37 | ½43 | ½32 | -36 | ½27 | bye | -24 | -38 | 3½ | 3½ |
| 41 | Holloway, Edith | ENG | 1 | -28 | -38 | -36 | -37 | bye | -34 | +42 | -30 | 2 | 3 |
| 42 | Potemkine, Peter Petrovich | URS | 1 | ½18 | -19 | -28 | ½34 | -32 | +43 | -41 | -37 | 2 | 3 |
| 43 | Jonet, F. | BEL | ½ | -38 | ½40 | +37 | -30 | ½34 | -42 | -22 | -32 | 2 | 2½ |
| 44 | Rozić, Kosta | YUG | 2½ | -26 | -25 | -24 | -32 | — | — | — | — | 0 | 2½ |
Team classification: 1.Czechoslovakia 31 2.Hungary 31 3.Switzerland 29 4-5.Latvia & Argentina 27½ 6.Italy 26½ 7-8.France & Poland 25½ 9.Belgium 24 10.Spain 19 11.Netherlands 18½ 12.Romania 18 13.Finland 15 14.Great Britain 12½ 15.Ireland 5½ 16.Canada 5 17.Russia 4½ 18.Yugoslavia 2½
[1] gives the venue as the Majestic Hotel, the tournament director as Alekhine and the tempo as 40 moves in 2 hours and then 20 moves per hour. This tournament was held in parallel to the 8th olympic games. At the end of the tournament the FIDE was established under presidency of Mr. Rueb. Colle won a silver medal for his 3rd place. Kahn did not participate in the consolation cup. Belgium reached the top 10 – mainly because the lower ranked countries had less than the maximum of 4 players in competition. I scanned the pictures below from [2], but the quality is not very good.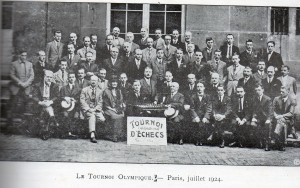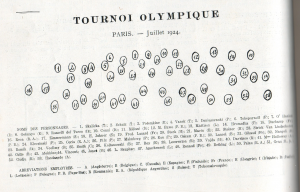 Wanted:
Quite a few games are missing.
The first names of Jonet and Davidescu.
Sources:
OlimpBase
L'Échiquier 1925/02