Match O'Kelly de Galway vs. van den Berg, Noordwijk
19-11-1947 > 03-12-1947
This match was played in cafe-restaurant Seinpost on November 19-22, 26-29 and December 2-3, starting at 18:00. Herfkens, president of the Leidse Chess Federation, opened the match with a speech, wherein he thanked the organising club (Daniël Noteboom Noordwijk) and Van Beelen, the owner of Seinpost. Mayor Van Berckel played the first move.
A small local tournament was played alongside and won by Schüsz and Barkema. According to [1], Galjaard was arbiter. The following picture comes from Leidsch dagblad 20/11/1947 and depicts the first move of the match: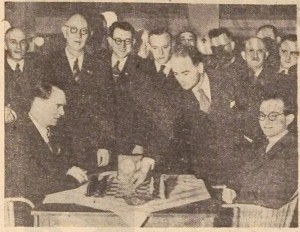 Wanted
Games 7 and 10 are missing.
Sources
Leidsch dagblad 15/11-04/12/1947