25th Hoogoven tournament, Beverwijk
07-01-1963 > 28-01-1963
| | | | | | | | | | | | | | | | | | | | | | | |
| --- | --- | --- | --- | --- | --- | --- | --- | --- | --- | --- | --- | --- | --- | --- | --- | --- | --- | --- | --- | --- | --- | --- |
| | | GM group | | 1 | 2 | 3 | 4 | 5 | 6 | 7 | 8 | 9 | 0 | 1 | 2 | 3 | 4 | 5 | 6 | 7 | 8 | Tot |
| 1 | GM | Donner, Jan Hein | NED | – | ½ | 0 | 1 | ½ | 1 | 0 | 1 | ½ | ½ | 1 | 1 | 1 | ½ | ½ | 1 | 1 | 1 | 12 |
| 2 | GM | Bronstein, David Ionovich | URS | ½ | – | ½ | 0 | ½ | ½ | ½ | ½ | ½ | ½ | 1 | ½ | 1 | 1 | 1 | 1 | 1 | 1 | 11½ |
| 3 | IM | Parma, Bruno | YUG | 1 | ½ | – | 0 | ½ | ½ | ½ | ½ | 1 | ½ | 1 | ½ | ½ | 1 | ½ | 1 | 1 | ½ | 11 |
| 4 | GM | Pilnik, Herman | ARG | 0 | 1 | 1 | – | 1 | ½ | 0 | 1 | 0 | ½ | ½ | ½ | 0 | 1 | 1 | 1 | 1 | 1 | 11 |
| 5 | GM | Ivkov, Borislav | YUG | ½ | ½ | ½ | 0 | – | ½ | ½ | ½ | ½ | ½ | 1 | 1 | 1 | ½ | 1 | ½ | 1 | 1 | 11 |
| 6 | GM | Matanović, Aleksandar | YUG | 0 | ½ | ½ | ½ | ½ | – | ½ | ½ | ½ | ½ | 1 | 1 | 1 | ½ | 1 | ½ | ½ | ½ | 10 |
| 7 | GM | Averbakh, Yuri Lvovich | URS | 1 | ½ | ½ | 1 | ½ | ½ | – | 0 | ½ | ½ | 0 | 0 | ½ | 1 | ½ | 1 | ½ | 1 | 9½ |
| 8 | GM | Ståhlberg, Gideon | SWE | 0 | ½ | ½ | 0 | ½ | ½ | 1 | – | ½ | ½ | ½ | 1 | ½ | 0 | ½ | 1 | ½ | 1 | 9 |
| 9 | GM | Robatsch, Karl | AUT | ½ | ½ | 0 | 1 | ½ | ½ | ½ | ½ | – | ½ | ½ | 0 | ½ | 0 | 1 | ½ | ½ | 1 | 8½ |
| 10 | GM | Trifunović, Petar | YUG | ½ | ½ | ½ | ½ | ½ | ½ | ½ | ½ | ½ | – | ½ | ½ | ½ | ½ | 0 | ½ | ½ | ½ | 8 |
| 11 | | van den Berg, Carel Benjamin | NED | 0 | 0 | 0 | ½ | 0 | 0 | 1 | ½ | ½ | ½ | – | 1 | 0 | ½ | 1 | 1 | ½ | 1 | 8 |
| 12 | | Tan Hiong Liong | INA | 0 | ½ | ½ | ½ | 0 | 0 | 1 | 0 | 1 | ½ | 0 | – | ½ | 1 | ½ | ½ | 1 | 0 | 7½ |
| 13 | GM | O'Kelly de Galway, Albéric | BEL | 0 | 0 | ½ | 1 | 0 | 0 | ½ | ½ | ½ | ½ | 1 | ½ | – | ½ | ½ | 0 | ½ | 1 | 7½ |
| 14 | IM | Milić, Borislav | YUG | ½ | 0 | 0 | 0 | ½ | ½ | 0 | 1 | 1 | ½ | ½ | 0 | ½ | – | 0 | 1 | ½ | ½ | 7 |
| 15 | IM | van Scheltinga, Theo Daniël | NED | ½ | 0 | ½ | 0 | 0 | 0 | ½ | ½ | 0 | 1 | 0 | ½ | ½ | 1 | – | 0 | ½ | 1 | 6½ |
| 16 | IM | Langeweg, Christiaan | NED | 0 | 0 | 0 | 0 | ½ | ½ | 0 | 0 | ½ | ½ | 0 | ½ | 1 | 0 | 1 | – | 1 | 1 | 6½ |
| 17 | GM | Pirc, Vasja | YUG | 0 | 0 | 0 | 0 | 0 | ½ | ½ | ½ | ½ | ½ | ½ | 0 | ½ | ½ | ½ | 0 | – | ½ | 5 |
| 18 | IM | Gereben, Ernő | SUI | 0 | 0 | ½ | 0 | 0 | ½ | 0 | 0 | 0 | ½ | 0 | 1 | 0 | ½ | 0 | 0 | ½ | – | 3½ |
| | | | | | | | | | | | | | | |
| --- | --- | --- | --- | --- | --- | --- | --- | --- | --- | --- | --- | --- | --- | --- |
| | | IM A group | | 1 | 2 | 3 | 4 | 5 | 6 | 7 | 8 | 9 | 0 | Tot |
| 1 | | de Rooi, Paul | NED | – | 0 | ½ | 1 | ½ | 1 | ½ | ½ | 1 | 1 | 6 |
| 2 | | Zuidema, Coenraad | NED | 1 | – | ½ | ½ | 1 | ½ | ½ | ½ | ½ | 1 | 6 |
| 3 | IM | Dunkelblum, Arthur | BEL | ½ | ½ | – | ½ | ½ | 1 | ½ | 1 | ½ | 1 | 6 |
| 4 | | Sándor, Béla | HUN | 0 | ½ | ½ | – | ½ | ½ | 1 | 1 | ½ | 1 | 5½ |
| 5 | | Mohrlok, Dieter | GER | ½ | 0 | ½ | ½ | – | ½ | ½ | ½ | ½ | 1 | 4½ |
| 6 | IM | Henneberke, Franciscus | NED | 0 | ½ | 0 | ½ | ½ | – | 1 | ½ | 1 | 0 | 4 |
| 7 | | Ankerst, Marjan | YUG | ½ | ½ | ½ | 0 | ½ | 0 | – | ½ | ½ | ½ | 3½ |
| 8 | IM | Rellstab, Ludwig Adolf | GER | ½ | ½ | 0 | 0 | ½ | ½ | ½ | – | ½ | ½ | 3½ |
| 9 | IM | Wade, Robert Graham | NZL | 0 | ½ | ½ | ½ | ½ | 0 | ½ | ½ | – | ½ | 3½ |
| 10 | | Ditt, Hans Egon | GER | 0 | 0 | 0 | 0 | 0 | 1 | ½ | ½ | ½ | – | 2½ |
| | | | | | | | | | | | | | | |
| --- | --- | --- | --- | --- | --- | --- | --- | --- | --- | --- | --- | --- | --- | --- |
| | | IM B group | | 1 | 2 | 3 | 4 | 5 | 6 | 7 | 8 | 9 | 0 | Tot |
| 1 | | Kuijpers, Franciscus | NED | – | 1 | 1 | 0 | ½ | 1 | ½ | ½ | 1 | 1 | 6½ |
| 2 | IM | Canal, Esteban | PER | 0 | – | ½ | ½ | 1 | 0 | 1 | 1 | 1 | 1 | 6 |
| 3 | | Lange, Helmut | GER | 0 | ½ | – | ½ | 1 | ½ | ½ | 1 | 1 | ½ | 5½ |
| 4 | IM | Kieninger, Georg | GER | 1 | ½ | ½ | – | ½ | 1 | ½ | 0 | ½ | ½ | 5 |
| 5 | | Smederevac, Petar | YUG | ½ | 0 | 0 | ½ | – | 1 | ½ | 1 | ½ | 1 | 5 |
| 6 | IM | Fazekas, Stefan | ENG | 0 | 1 | ½ | 0 | 0 | – | 1 | ½ | ½ | ½ | 4 |
| 7 | IM | Kramer, Haije | NED | ½ | 0 | ½ | ½ | ½ | 0 | – | ½ | 1 | ½ | 4 |
| 8 | | Van Seters, Frits | BEL | ½ | 0 | 0 | 1 | 0 | ½ | ½ | – | ½ | 1 | 4 |
| 9 | | van Steenis, Hendrik Jan | NED | 0 | 0 | 0 | ½ | ½ | ½ | 0 | ½ | – | 1 | 3 |
| 10 | GM | Sämisch, Friedrich | GER | 0 | 0 | ½ | ½ | 0 | ½ | ½ | 0 | 0 | – | 2 |
[1] has all the games from which the crosstables can easily be extracted. For this jubilee edition of the Hoogovens tournament, the Grandmaster group was extended from 10 to 18 participants. O'Kelly had a rather disappointing run in this group, where Donner scored a surprise victory. Van Seters ended in the middle of his group while Dunkelblum managed one of his few tournament victories. The final standings from Reserves group A are as follows, as mentioned in [2]:
1-2. Bergsma & Gibbs 7½/9 3-6. Vlagsma, Seewald, Božić & Steijn 4½ 7. Piket 4 8. De Bruycker 3½ 9. Arons 2½ 10.Naerebout 2
The exact dates of the games, the picture below, and a correction to O'Kelly's games against Trifunović were provided by Mr. Jan Kersten, for which I am very grateful.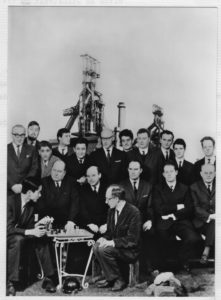 Wanted
Sources
365chess.com
Schakend Nederland 62/63 [as corresponded by Mr. Erich Siebenhaar]