Raymond Soly tournament, Antwerp/Brussels
18-02-1944 > 25-03-1944
| | | | | | | | | | | | | | | | |
| --- | --- | --- | --- | --- | --- | --- | --- | --- | --- | --- | --- | --- | --- | --- | --- |
| | | | 1 | 2 | 3 | 4 | 5 | 6 | 7 | 8 | 9 | 0 | 1 | 2 | Tot |
| 1 | O'Kelly de Galway, Albéric | BEL | – | 1 | ½ | 0 | 1 | 1 | 1 | 1 | 1 | 1 | 1 | 1 | 9½ |
| 2 | Vaver, Vladimir | RUS | 0 | – | 1 | 1 | ½ | 1 | 0 | 1 | ½ | ½ | 1 | 1 | 7½ |
| 3 | Van Lennep, Frits | BEL | ½ | 0 | – | 1 | 1 | ½ | ½ | ½ | ½ | 1 | ½ | 1 | 7 |
| 4 | Plavchitch, Spiro | YUG | 1 | 0 | 0 | – | 1 | 0 | ½ | ½ | 1 | 1 | 1 | ½ | 6½ |
| 5 | Franck, Alfons | BEL | 0 | ½ | 0 | 0 | – | 0 | 1 | 1 | 1 | 1 | 1 | 1 | 6½ |
| 6 | Defosse, Marcel | BEL | 0 | 0 | ½ | 1 | 1 | – | ½ | ½ | 0 | 1 | ½ | 1 | 6 |
| 7 | Devos, Paul | BEL | 0 | 1 | ½ | ½ | 0 | ½ | – | 1 | 1 | 1 | – | – | 5½ |
| 8 | Soly, Raymond | BEL | 0 | 0 | ½ | ½ | 0 | ½ | 0 | – | ½ | ½ | 1 | 1 | 4½ |
| 9 | Ianovchik, Vlad | ROM | 0 | ½ | ½ | 0 | 0 | 1 | 0 | ½ | – | 0 | 1 | ½ | 4 |
| 10 | De Mey, Emile | BEL | 0 | ½ | 0 | 0 | 0 | 0 | 0 | ½ | 1 | – | 1 | 1 | 4 |
| 11 | Gerits, Valère | BEL | 0 | 0 | ½ | 0 | 0 | ½ | + | 0 | 0 | 0 | – | ½ | 2½ |
| 12 | Stuyts, Jozef | BEL | 0 | 0 | 0 | ½ | 0 | 0 | + | 0 | ½ | 0 | ½ | – | 2½ |
Since his name appears as that of tournament as well, I assume Raymond Soly sponsored this tournament. It pitted six players from Brussels (O'Kelly, Devos, Defosse, Vaver, Plavchitch, Ianovchik) against six players from Antwerp (Franck, Gerits, De Mey, Van Lennep, Soly, Stuyts). Franck was a late replacement for Borodin of the Antwerp Chess Club. After this replacement, the whole Antwerp team was really a team from organising club 't Schaakbord,
For logistic reasons, the encounters between players from the same city took place in that city. Afterwards, the six players from Brussels travelled to Antwerp six times to play their games against the Antwerp players. The games in Brussels were played under direction of Louis Demey, those in Antwerp under Clément Wagemans. All games were played following the tempo of 40 moves in 2 hours followed by 10 moves per 30'.
O'Kelly crushed his opposition and finished two points clear of the field. Co-favourite Devos spoiled a shared second place by forfeiting — for reasons unknown to me — two games he probably would have won. For Van Lennep, this was perhaps the best result of his career. Brussels easily won the intercity match, with 24 to 12.
There were four main prizes: 400 BEF, 300 BEF, 200 BEF, and 100 BEF. Presumably, the last one was split between Plavchitch and Franck, but I'm not sure. The six members of the winning team got 100 BEF each. The first player from organising club 't Schaakbord, van Lennep, also got 100 BEF. Additionally, every victory netted a player 25 BEF while the Brussels players got 6 times 35 BEF transportation costs. I do not know whether Devos was paid these dues for the games he forfeited, although the tournament book ([1]), from which all this information is taken, seems to suggest he did. Finally, it mentions 2 times 50 BEF under the post 'Knockout'. Probably, this was money allocated for two blitz tournaments.
Although the tournament book claims to include 66 games, there are really only 63. Two games were forfeited by Devos, and the score sheet of the game Devos-Ianovchik was apparently not handed in with Mrs. Stoffels, who edited the tournament book. Moreover, the games seem to be given in a completely random order. I have respected this order in the .pgn file you can find below. If you have any idea why it is the way it is, please let me know. Besides 63 games and a few analyses, ([1]) also includes a nice photograph, which I reproduce below. My sincere thanks go out to Mr. Gooris, who very kindly sent me pictures of all pages.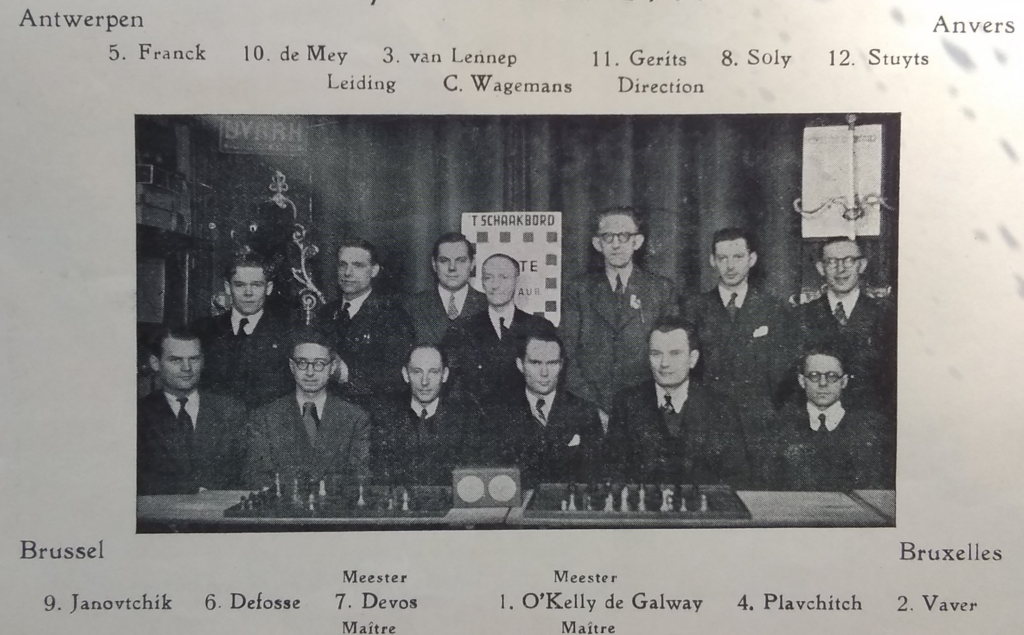 Wanted
The game Ianovchik-Devos.
Why the forfeits?
I'm not sure about all nationalities.
The exact dates for the games.
Sources
Ed.: Marianne Stoffels, Groot Schaaktoernooi Raymond Soly 1944, 't Schaakbord 1944 [as kindly corresponded by Mr. Gooris]