GSC tournament, Groningen
09-11-1959 > 14-11-1959
| | | | | | | | | | |
| --- | --- | --- | --- | --- | --- | --- | --- | --- | --- |
| | Main group | | 1 | 2 | 3 | 4 | 5 | 6 | Tot |
| 1 | Orbaan, Constant | NED | – | ½ | 1 | 1 | ½ | 1 | 4 |
| 2 | Scheffer, Jurriën Cornelis | NED | ½ | – | ½ | ½ | 1 | 1 | 3½ |
| 3 | Bunt, Henk | NED | 0 | ½ | – | ½ | 1 | 1 | 3 |
| 4 | Noordhoek, Menno | NED | 0 | ½ | ½ | – | ½ | 1 | 2½ |
| 5 | Buurman, Roelof | NED | ½ | 0 | 0 | ½ | – | 0 | 1 |
| 6 | Franck, Alfons | BEL | 0 | 0 | 0 | 0 | 1 | – | 1 |
A small tournament organised by the Stichting Groninger Schaakcontact. Staudt was arbiter. [1] gives enough results to reconstruct the crosstable, but this is, of course, only tentatively. Two games come from [2]. This fact and the first names of Scheffer, Noordhoek, and Buurman were pointed out to me by Mr. Jan Kersten, for which I am very grateful.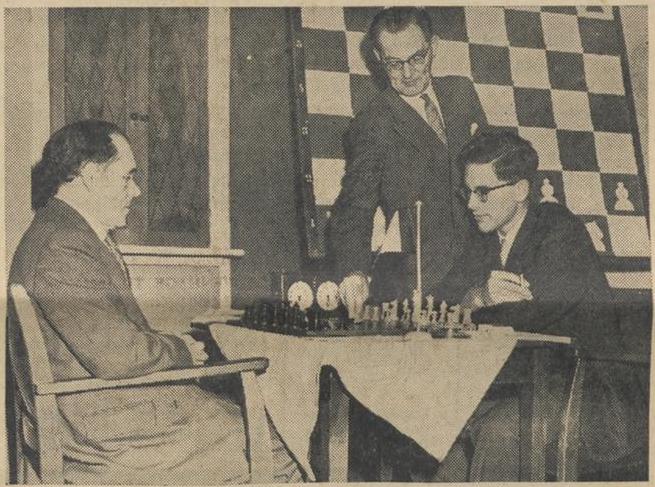 A picture from [1], showing NOSBO president Bartstra making the symbolic first move in the first-round game between Franck (left) and Noordhoek (right).
Wanted
Three games.
Some confirmation for the crosstable.
Sources
Nieuwblad van het Noorden 04,10,12,16/11/1959
www.chessgames.com